10 BBQ Recipes You Should Try This Summer
Actions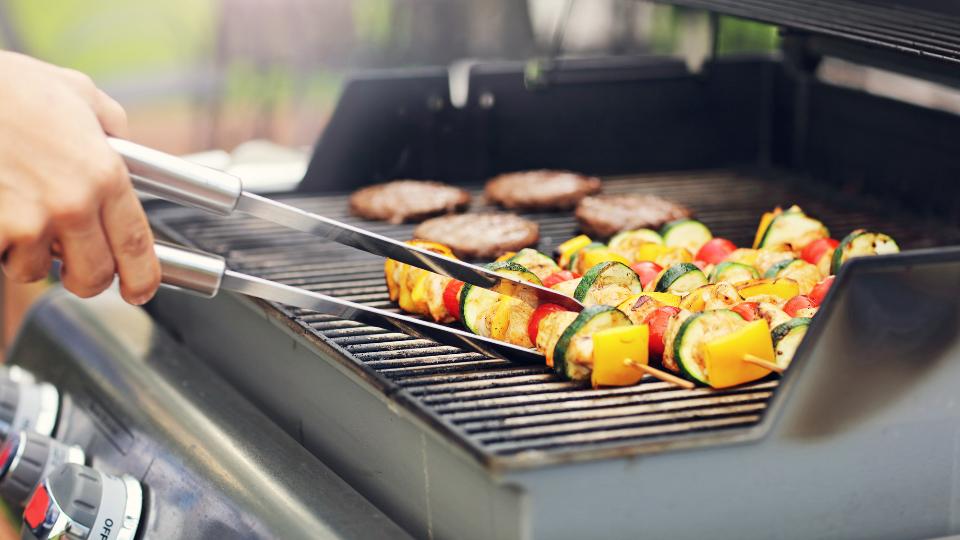 10 BBQ Recipes You Should Try This Summer
July 20, 2018
As summer makes its annual debut, so do the picnics and barbeques. You can roll out the grill and cook the usual burgers and hotdogs, but why not live a little more adventurously?
Dress up the menu for your outdoor events with finger-licking BBQ recipes that will have friends and family begging for more.

10 BBQ Recipes that will Have Your Taste Buds Sizzling
These 10 BBQ recipes take on various cultural flavours you can enjoy as you bask in the sunlight from the comfort of your patio furniture. We give you an overview of each, along with a link to the full recipe.
Experiment with them all to see which one becomes the new crowd favourite.

1. Jamaican Jerk Chicken Fresh off the Grill
This Jamaican-style jerk chicken recipe takes a little bit of prep work, but it's packed with flavour and simple to make.
Use a blender to create a puree for the marinade, then poke holes into the raw chicken with a fork so the flavour can sink in.
Rub the marinade thoroughly into the chicken and let it sit covered in the refrigerator for a day or two, at most.
Afterwards, you're ready to start cooking! Simply grill the chicken for approximately 5 or 6 minutes on each side, then check to make sure it's fully cooked.
Quick and easy: Now you're ready to serve--just be prepared to serve up seconds!

2. Mouthwatering Korean BBQ
This irresistible Korean-style grilled hanger steak recipe can be whipped up quickly, allowing you to spend less time cooking and more time enjoying your meal with good company.
The marinade is a sweet blend of sugar, ginger, soy sauce, garlic, vegetable oil, sesame oil, shallots, and of course, salt and pepper.
Unlike some recipes, you don't have to wait long for the flavour to set in. A 15-minute massage into the meat is all it takes, then it's approximately 9 minutes on the grill.
Add sesame seeds and springs onions prior to serving for the perfect touch.

3. Chicken Kebobs with a Healthy Caribbean Twist
Embrace a tropical theme with these citrus and spicy chicken skewers. Like the Jamaican recipe, this Caribbean BBQ favourite requires overnight marination.
You'll taste why as soon as they come off the grill!
This delightful chicken recipe is infused with spring onion, cayenne pepper, garlic, parsley, olive oil, and lime juice for the perfect tropical flavour. It is also doused in lime chilli sauce.
Prep time takes about an hour overall, plus six hours of marinating time prior to cooking. However, once you're ready to start grilling, you simply cook these skewered chicken bites on high heat for approximately 8 to 10 minutes before chowing down!

4. Grilled Vegetables with a Sicilian Touch
Meat isn't the only BBQ recipe we whip up on the grill. Veggies are a hot side dish and this Sicilian grilled vegetable salad pairs well with many different styles of food.
This recipe is flexible to your personal tastes. You can pick and choose your favourite vegetables, then grill and soak in the made from scratch Sicilian dressing included in this recipe.
Expect to spend about 10 minutes grilling the vegetables, then 30 minutes allowing them to soak within the dressing itself.
Afterwards, you can serve it with your choice of a main dish.

5. BBQ Ribs with an Asian-Pineapple Fusion Sauce
Ribs drenched in BBQ sauce is a cookout classic. However, there is nothing wrong with mixing it up! Give your old BBQ sauce recipe a twist with this Asian BBQ rib recipe.
A combination of a spice-infused dry rub and a sweet, Asian glaze, your guests will be piling their plates in order to feed their now insatiable appetite.
While you can cook this recipe on a traditional grill, you can use the kamado-style ceramic charcoal cooker in order to achieve the best results.

6. Surprise Guests with a Delicious BBQ Eel Dish
A popular Japanese dish is Unagi Kaba-Yaki, which in English translates to Barbequed Eel. While this dish may sound exotic, the flavour isn't that different from the BBQ Westerners have come to know and love.
In fact, it doesn't taste like seafood at all.
The sauce is a satisfyingly simple blend of sake, mirin, sugar, soy sauce, and fish stock, resulting in a sweet sauce that will have you licking your lips.
Grilling the eel is quick work as well. Simply cook it with the skin facing down for 3 minutes, then flip and cook for another 3 minutes.
This dish is best served over a fresh bed of white rice.

7. Toasty Grilled Corn Perfect for Hands-On BBQ Meals
Often times, BBQ's are an eat-with-your-hands affair. If you're looking to serve up a meal where you simply grab what you want and dig in, this grilled corn recipe is the perfect side dish.
The BBQ butter is a simple blend of unsalted butter and BBQ sauce, and the entire recipe only takes about an hour from prep to finish. Simply soak your ears of corn in ice water for half an hour, brush them with olive oil, and start grilling.
The sauce is added as a final touch and the end result is mouthwateringly delicious.

8. Juicy, Restaurant-Style Burgers Made in Your Backyard
If you don't want to stray from serving up burgers, then simply tweak the recipe! This steakhouse burger recipe offers a simple, step-by-step seasoning and grilling process that will make friends and family think you're a pro chef.
The secret lies in panade and seasoning. This mixture includes everyday ingredients such as milk, salt, pepper, Worcestershire sauce, garlic, and bread.
As you prepare your patties, don't forget to press a slight indentation in the centre to avoid a dome-shaped burger.

9. Grilled Mexican Peppers to Satisfy Your Vegetarian Family and Friends
Not everyone eats meat, even at a BBQ. Offer a vegetarian-friendly option that is sure to satisfy even the hungriest of guests.
These mini, skewered peppers are stuffed with onions, pinto beans, garlic, chilli flakes, cumin, and mozzarella. Cut the tops off of your peppers and stuff the inside with this flavorful filling for a truly delicious charred dish.

10. Revisit a Classic with Dry Rub Pulled Pork Slathered in a Vinegar Based Sauce
Pulled pork is a classic recipe served as a main staple at most BBQ restaurants. This Carolina-style pulled pork recipe will perk up your taste buds with its Southern American flavour!
Prepped with a dry rub made up of paprika, brown sugar, garlic powder, sea salt, and dry mustard, there won't be a bland bite in this dish.
This dish makes a fine pair with dark beers.

Stock up for Your Next BBQ
Need a propane refill for your grill so you can try out these tasty BBQ recipes? Stop on by and stock up your propane tank at our full-service gas bar in Bonnyville.
You can even purchase a new barbeque at our Home Centre, as well as other grilling accessories!
Members can take advantage of lifetime membership benefits! Learn more about how you can become a co-op member today.
Discover more: