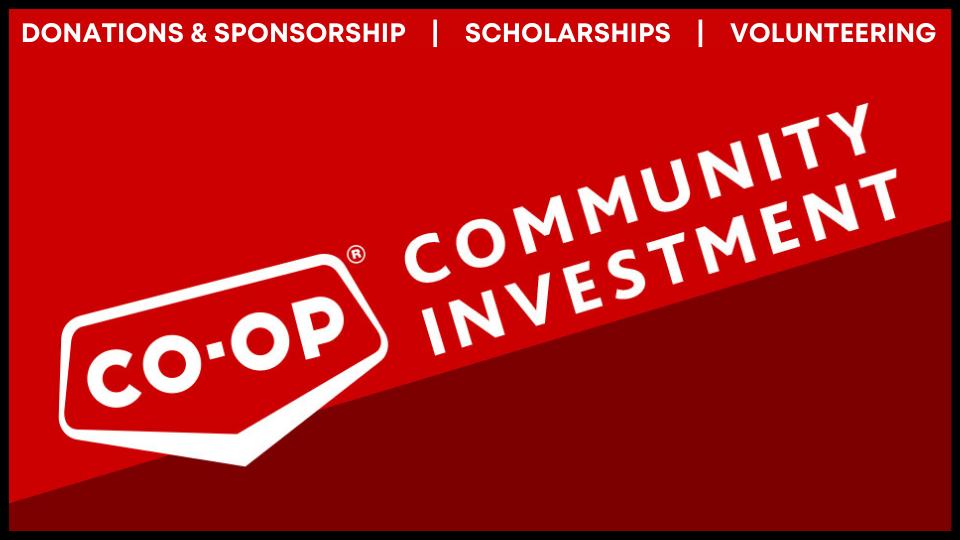 Community Investment
February 4, 2022
COMMUNITY INVESTMENT
Co-op's business model means that instead of dollars leaving the community, 100% of our profits get reinvested in our members and in the communities where we operate. We support and invest in our community because we live and work here too. This creates a sustainable model for a healthy community.
________________________________________________________________________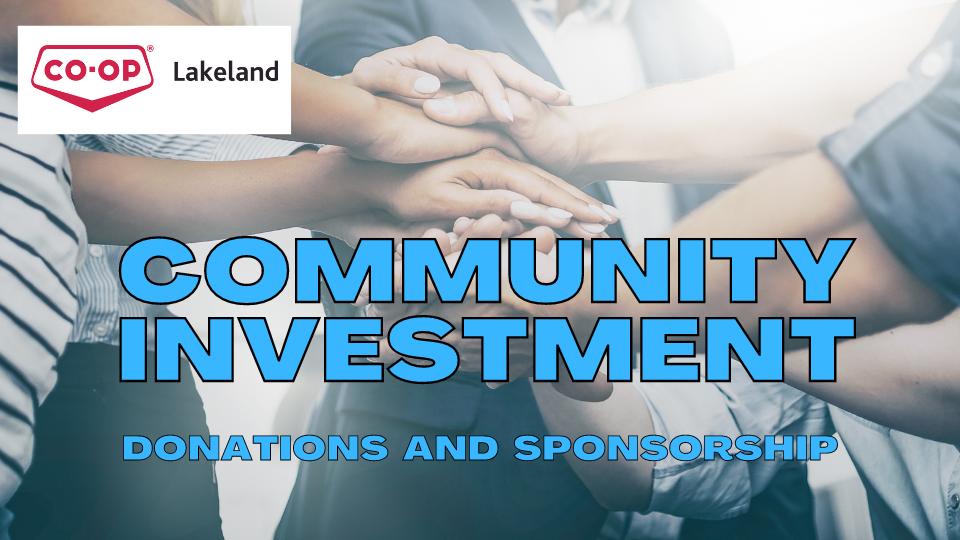 Donations and Sponsorships
Since our start in 1984, we have been supporting a wide variety of events, programs, projects and fundraisers all throughout our district. If your group, non-profit, organization, or club is making a difference in our community and you meet our eligibility guidelines, we welcome you to apply for funding support.
How to apply:
To be eligible for Lakeland Co-op support, Applicants:
must be a registered charity or non-profit organization, a non-profit community group or youth organization, an education event for children/youth, or a community group working toward improving a public/community space
must be based in and provide programming/services in Lakeland Co-op's trading area
should be a Lakeland Co-op Member — while this is not required, we do encourage all applicants to be a Member of Lakeland Co-op
More details about eligibility are included in the application
We receive numerous requests for support, and we do our best to support as many requests as possible. Because of the high volume of requests that we receive, although we recognize the important work that each organization is doing in our community, not all requests will be approved.
_______________________________________________________________________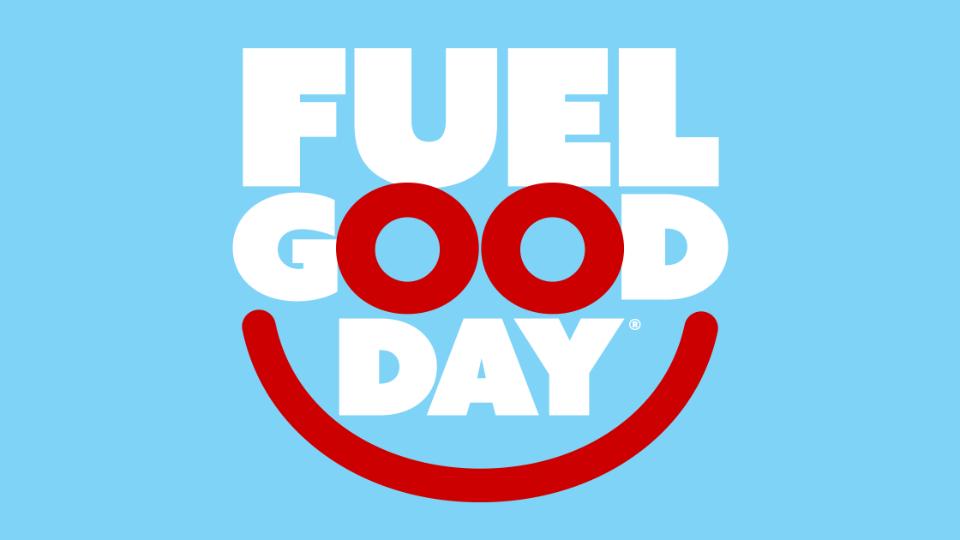 CLICK HERE TO ACCESS THE FUEL GOOD DAY APPLICATION FOR YOUR ORGANIZATION TO BE CONSIDERED AS A FUEL GOOD DAY RECIPIENT

Fuel Good Day is back! When you fill up your tank on September 19, 2023 at Lakeland Co-op Gas Bars in Bonnyville and Cold Lake, Co-op will donate ten cents per litre of fuel purchased to two organizations in our communities. All grades of gasoline and diesel fuel are eligible.
All of the proceeds from Co-op's Fuel Good Day are invested in local communities – benefiting local schools, community centres, libraries, hospitals, food banks and more. Click here to view the full list of community organizations being supported by local Co-ops on Fuel Good Day.
Fuelling good in your community since 2017
2022 Fuel Good Day was a success thanks to Co-op members and customers across Western Canada. Together, we raised $650K! There were 175 organizations selected as recipients for Fuel Good Day in 2022.
Since its launch in 2017, more than $3 million dollars raised through Fuel Good Day have gone to over 700 local organizations, supporting the communities they serve.
In previous years, funds raised on Fuel Good Day have supported community organizations that provide comfort for children and their families during very difficult times, foundations that work to upgrade medical equipment to improve their patients' lives and groups that make it easier for kids to play the sports they love.
𝐀𝐏𝐏𝐋𝐘 𝐓𝐎𝐃𝐀𝐘! Do you work or volunteer with an organization that would be a great pick for our 2023 Fuel Good Day? Tell us about you organization, and get your application in before the May 14 deadline

_______________________________________________________________________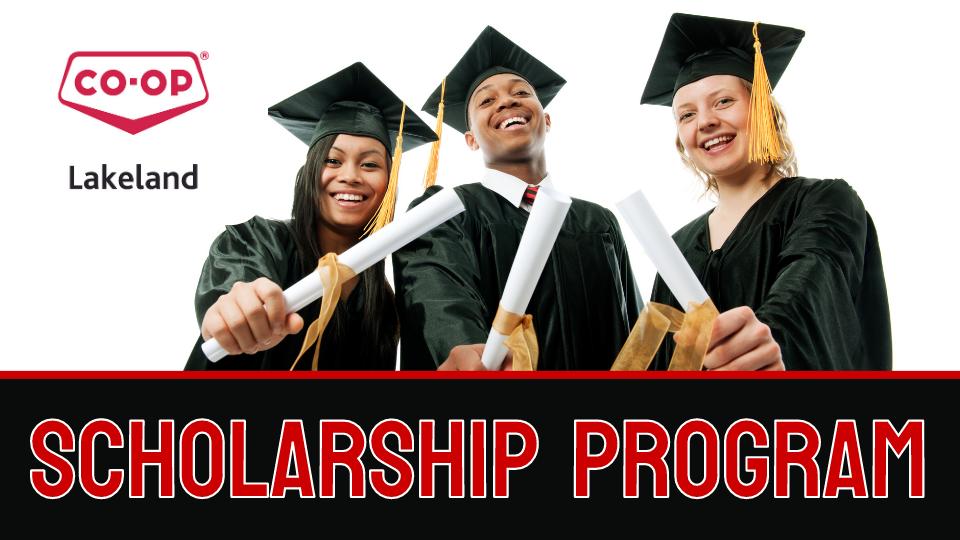 Lakeland Co-op Scholarship Program
Lakeland Co-op is pleased to present a scholarship program for graduating students within our trade area. Our commitment to our community runs deep, and contributing to a student's future through the Scholarship Program is another way that Lakeland Co-op is investing in our members and our community.
We know that each student's educational journey is unique, and that's why we award scholarships to students who excel in a variety of areas – academic achievement, school involvement, commitment to the community, and leadership.
TWO - $1000.00 Lakeland Co-op Scholarships will be awarded annually to students entering university
ONE - $1000.00 Lakeland Co-op Scholarship will be awarded annually to a student entering the trades
To be eligible for a Lakeland Co-op Scholarship, the student must:
be entering university or college in the semester following high school graduation
either be a current Lakeland Co-op member or have a parent/guardian who is a current Lakeland Co-op Member for at least one year
The next intake of applications will be from February 1, 2023 through May 15, 2023.
How to apply:
Please apply online! Lakeland Co-op now uses Do Some Good to power our Scholarship application form
For more information on the Lakeland Co-op Scholarship Program, please email marketing@lakeland.crs