10 Great Deck Ideas to Create the Perfect Outdoor Space
Actions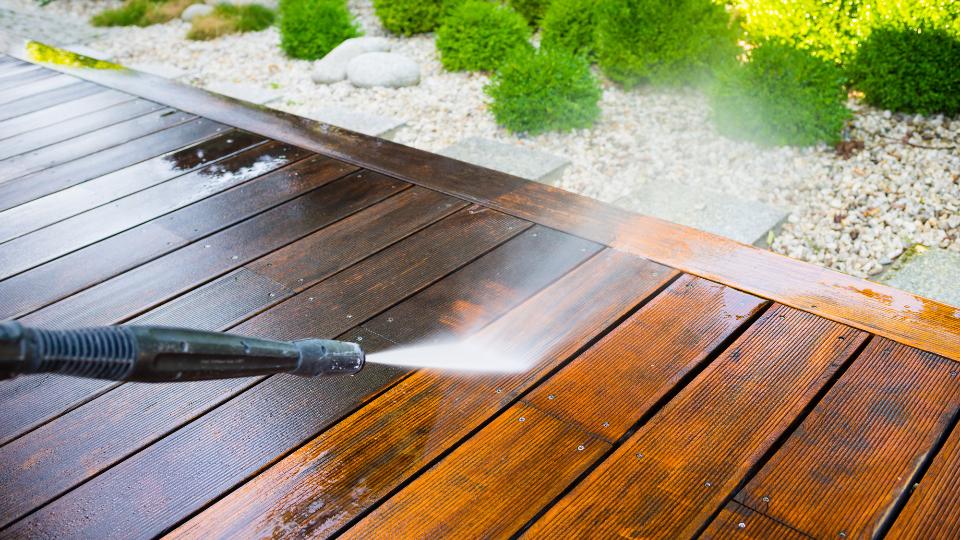 10 Great Deck Ideas to Create the Perfect Outdoor Space
June 11, 2019
Summer is coming, so you'll be wanting to spend a lot more time outside. That makes now a perfect time to get your deck remodeled and ready for the extra use that it will be getting. From built-in BBQ's and seating to pagoda decks and gas firepits, there are so many great ideas to inspire your outdoor space. Check out this blog to get inspired!
1. Deck Boxes
A large, boring deck can be broken up by placing a deck box in the center of it. Deck boxes come in a variety of shapes and sizes that can create a nice, aesthetically pleasing island on your deck that provides visual interest. Of course, deck boxes are functional too. Large ones provide quite a bit of storage space that can be used to store outdoor games, or whatever else you may find the need to stash away out of view.
Because they come in so many sizes, deck boxes could also make great accents to place along the sides or in the corners of your deck.
2. Built-In Benches
If you do a lot of entertaining, then seating space may be lacking on your current deck. Upgrading your deck with built-in benches around its parameter can provide all of the seating you could possibly need. Best of all, the seating will look non-intrusive so it will not give the impression that there are lots of empty seats everywhere.
If the storage space of the deck boxes appealed to you, but a box isn't to your liking, it can be a great idea to hide storage space under your benching.
3. Pagoda or Pergola
These two terms are often used interchangeably, but are actually different, though similar, deck enhancements. A pagoda is a roofed structure. It is supported by several columns that give it the same distinct look as a pergola, which is also supported by columns but features an open roof with beams at the top instead.
Both of these options provide a similar beauty to your deck and are certainly eye-catching. Pagodas will provide more protection from the elements. This makes them a great choice if you wish to place things on your deck that you do not want to get drenched when it rains. Pergolas retain a bit of the open nature of a traditional deck while still providing the visual appeal of the columns and beams.
4. Lattice Walls or Pergola Sidewalls
Walls can provide a great deal of privacy to your deck while also giving it a more intimate, less wide open feel. For a more fully enclosed deck, lattice walls make for a great option. They provide privacy while still allowing a little bit of lit in and a little bit of visibility out. Their exterior appearance can be greatly enhanced by the planting of vines.
Rather than a full pergola, putting up just two sidewalls can also provide a great deal of privacy while still maintaining a fair amount of the openness that is typically associated with a deck.
5. Fire Pits
Gathering around a campfire is a time-honored tradition. Having a fire pit on your deck can make that tradition a much more frequent pastime. Fire pits for decks come in a variety of forms. There are open stone pits that are more permanent as well as more contained and portable metal pits that can be added with minimal hassle.
6. Curved Deck
Although it takes more planning than a regular deck, a curved deck can provide a striking look for your home. Modern composite materials are available that will bend around a deck, and plywood can be soaked in hot water to increase its flexibility as well. Curved decking really opens up your creativity and allows you to create interesting shapes. Perhaps your new deck could bend around a cylindrical stone fire pit from the previous example.
7. Fountains
If fire isn't your thing, then perhaps water is. You likely won't have a grand old time gathering around the fountain, but the sound of a babbling fountain can be very relaxing, and many fountains are elaborate enough to be hypnotic to watch. With the right fountain, your deck could become the perfect place to provide you with a much needed moment of zen.
Fountains come in a dizzying array of different sizes, shapes, and materials. There are large fountains that would make a perfect centrepiece to your deck. Smaller ones tuck out of the way while still providing that relaxing ambience of running water.
8. Match Home Siding and Trim
Often a deck is stained so that it provides a nice contrast to the home that it is attached to. If your home's siding has an earth tone colour that matches the wood, you can change this up a little bit. Try painting the railings of your deck to match the trim of your home. With the body of the deck close to the same colour as your siding and the railings the same colour as your trim, your deck now blends into your house in a way that it never did before.
9. Solar Powered Lights
Sitting outside in the night air and watching the stars can be a very relaxing and romantic activity. This is especially true on a night where a full moon provides just the right amount of light. Some nights though, it can be difficult to see where you are going. A porch light helps, but doesn't provide much ambience and must be turned on and off manually.
Solar powered lights installed around the perimeter of your deck allow you to light the whole area with the exact amount of light you need. Not only will this make those romantic nights more romantic, but it will help guide your path when you get home after dark.
10. Built-in BBQ
Outdoor kitchens are a popular home improvement. It can be a bit crowded indoors if everyone gathers around to converse with the cook while they are preparing dinner, but outdoors on the deck, there is plenty of room. Having a built-in BBQ on your deck will expand your living space, allowing your deck to function as an extension of your home.
If you already spend a lot of time cooking out, then a deck remodel could be the perfect time to upgrade your BBQ. Speaking of a new BBQ, have you heard about our Build-A-Deck & Win a BBQ Contest? Click here for details!
Discover more: