Bulk Lubricants Delivered to You
Actions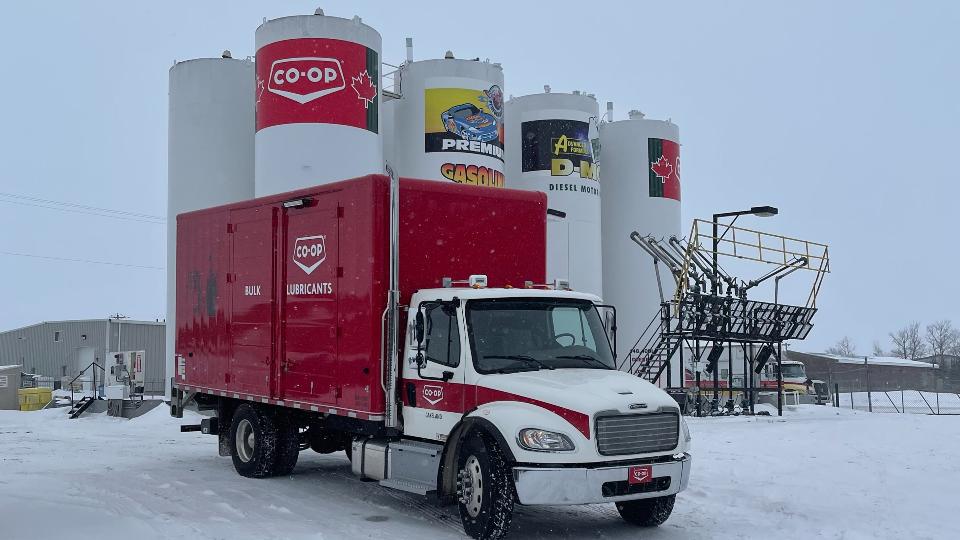 Bulk Lubricants Delivered to You
March 16, 2022
Bulk Lubricants delivered by Lakeland Co-op save you time and money
No matter what industry you're in - whether farming, working construction, oilfield services, logging, or even just working around your home and shop - having the proper equipment and keeping it in good working order is key to getting the job done.
That's where Co-op Premium Lubricants come in. We understand how important it is to have on-hand the right lubricant for your equipment when you need it. Lubricant Bulk Delivery from Lakeland Co-op offers reliable, efficient, and convenient service, while reducing packaging and waste disposal, and alleviating the need to monitor stock availability.
Lakeland Co-op stocks one of the largest oil inventories in the region. "We carry a wide range of lubricants ready for bulk delivery - from diesel engine and gasoline engine oils, to gear oils and hydraulic oils, as well as trans-hydraulic fluid," states Danny Meier, AG/Energy Manager at Lakeland Co-op in Bonnyville. "Once your account is set-up, getting your delivery ordered is easy with a call or email to me. Our minimum bulk lubricant delivery order is 205 litres."
Wondering if bulk is best for you?
Cost savings: There is a savings factor for a customer who orders bulk lubricants. On the average, customers can expect to save 50cents/litre on bulk products.
Less waste: Bulk delivery means less packaging to dispose of, no need to clean or recycle used pails or drums, and customers can get multiple products in one delivery.
Convenient for you: With one quick call to the Agro Centre, customers can place their order, and can also make arrangements to drop off their container(s) for refilling and pick-up.
Quick and easy: Once set up on-site, our bulk lubricant delivery truck can pump an average of 150 litres/minute – depending on the viscosity of the product. That means less of your time taken on receiving your order.
We've got you covered: We can also help set you up with the proper storage for bulk lubricants (i.e. a drum, tote or oil bench) no matter the size of your operation. "We do have an equipment program based on volume where we offer storage equipment free of charge. You can give me a call for the details on the program," states Meier.
Co-op Premium Lubricants for every piece of your equipment
Co-op Premium Lubricants are blended right here in Western Canada, and are specifically engineered to withstand our unique climate. All of our products strive to meet or exceed OEM specifications, and all our lubricant oils are backed by the Co-op Oil Guarantee.
"Federated Co-operatives has partnered with OATS (Oil Advisory Technical Services) to provide a cross-referencing database on lubricant information. This allows us to compare products and identify the right lubricant for a specific piece of equipment or vehicle," says Meier. "We can easily match the product and sometimes even find a better solution for our customers."
Want more information on Co-op Premium Lubricants and bulk delivery?
Please contact:
AG/ENERGY Manager, Danny Meier
Lakeland Co-op
6020-54 Avenue, Bonnyville
780-826-3349
danny.meier@lakeland.crs