Making Your Kitchen Luminous: Brands For Kitchen Lighting
Actions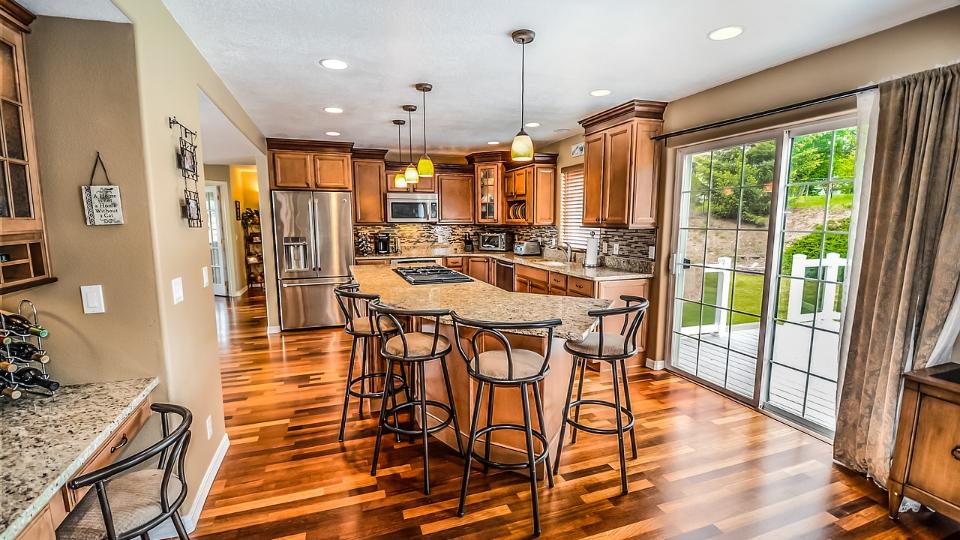 Making Your Kitchen Luminous: Brands For Kitchen Lighting
March 11, 2019
Few things are more essential to a home than light. Whether the days are long or short, it's important for our indoor spaces to be properly lit for each and every occasion. With the darker months of the year upon us, now can be a great time to think about how our homes are lit. Can you see absolutely everything you need to? Does the lighting compliment the rest of your design and decorations? Is there any space that would be better suited with more or less light than it has? However you think your lighting can be improved, there are a number of options to choose from. Here are some of our favourite brands for illuminating your kitchen both practically and beautifully.
Blending & Balancing: The Basics Of Home Lighting
When it comes to indoor lighting, there are three basic categories to consider. These are task lighting, ambient lighting, and accent lighting. Task lighting refers to lights that ensure everything you need to see is adequately lit. Ambient lighting is any light fixture used for ambience or decoration. Accent lighting is light used to highlight a particular space. Blending and balancing these three factors is key for getting the best lighting in any room. For kitchens, this concept is equally as valid as for any other room. Not only do you need to see what you're doing while preparing meals, but you may also use light to set a mood or highlight your decor as you would anywhere else.
Task Lighting
This is usually the best place to start for any lighting project. Since the kitchen can often be a busy and creative place, you may want to think about where you'll need your light the most. Certain places like the oven, the sink, and counter spaces are usually spots that require the most adequate lighting. You may also want to consider the positioning of your cupboards and pantry spaces to ensure you have enough lighting to see inside. Once you know which spaces need the most light, it becomes much easier to choose the right lighting fixtures for your needs.
Ambient Lighting
Even though the kitchen is primarily a place for practical needs, it can also be a creative and inviting space to be. Specially chosen lamps, wall sconces, and chandeliers can help create a more appealing atmosphere for a room you'll undoubtedly be spending time in. You may enjoy adjustable lighting while you work to set a certain mood, or perhaps a particular lamp to inspire you while creating something new. If it makes you feel better just to see it lit a certain way, it's definitely worth considering.
Accent Lighting
Whether it's an especially busy spot or the place of a treasured decoration, accent lighting can help illuminate your most particular of spaces. Most often, these lights add just a touch of extra light to distinguish their place from their surroundings. In kitchens, this can mean any number of things. Any wall decorations or special additions to the room could potentially look more appealing with a little light of their own. Generally speaking, accent lights are best used sparingly. It only takes a little extra light to stand out from the rest of the room.
Brands Fit For Any Kitchen Style
As a co-op, we like brands that help us make a positive impact while offering high-quality products for our members' homes. Not only are we interested in lighting that looks good and functions well, but that also work better for the environment and local economy. Each of the brands on our list offer a range of options for every lighting style and situation. It's up to you to decide which one's will help tell your kitchen's story.
Canarm
Not only were they named one of Canada's best managed companies, but they're also quite in touch with the world of lighting. Their catalogue includes a mix of reliable standards, cutting edge trends, and the beautifully unique. Their chandeliers and flush mounts are some of the most eye-catching around while still blending elegantly into most modern styles. Most all of their fixtures would fit well into a newly refurbished or renovated kitchen. For getting out of your comfort zone, their products offer a rewarding way to show off your kitchen with something new and exciting.
Lithonia Lighting
Strength and reliability are the defining traits of this brand. Their modern style fixtures are built to keep your rooms lit brilliantly for years to come. Many of their products operate using lower amounts of energy than comparable fixtures, helping conserve electricity and reduce negative impacts on the environment. For task lighting, they offer a large selection of quality undercabinet and flush lights. They also have a variety of sconces, pendants, and track lights for a little ambience where you need it. When looking through their selection, chances are you'll find something suitable to give your kitchen the light it needs.
Luminus
Using technology to improve the efficiency, longevity, and overall quality of their products is the mission of this brand. For LED lighting, there are few brands as dedicated to designing fixtures that are both practical and affordable. Their fixtures are optimized for a light that's clear, energy conscious, and long-lasting. In terms of style, their fixtures serve only a particular function. They may not be suited for the most ornamental of spaces, but as a task light they're ideal for a modern and eco-smart kitchen.
Brightening Your Local Community
One of the greatest things about being part of Lakeland Co-op is in contributing to the benefit of your community while also acquiring goods to better your home. Every brand we work with is locally owned and operated, and helps to stimulate the local economy. We also give away profits to many local projects and activities that make a difference in improving people's life.
When you're remodeling your kitchen or any other part of your home, we have the resources you need to make your living space into something better and brighter. Selected in-stock lights are now 30% off for whatever project you may have in mind. To learn more, please visit us here and see everything we can do for you and your home.
Discover more: