REFRESH AND RESET: 2021 COLOUR OF THE YEAR
Actions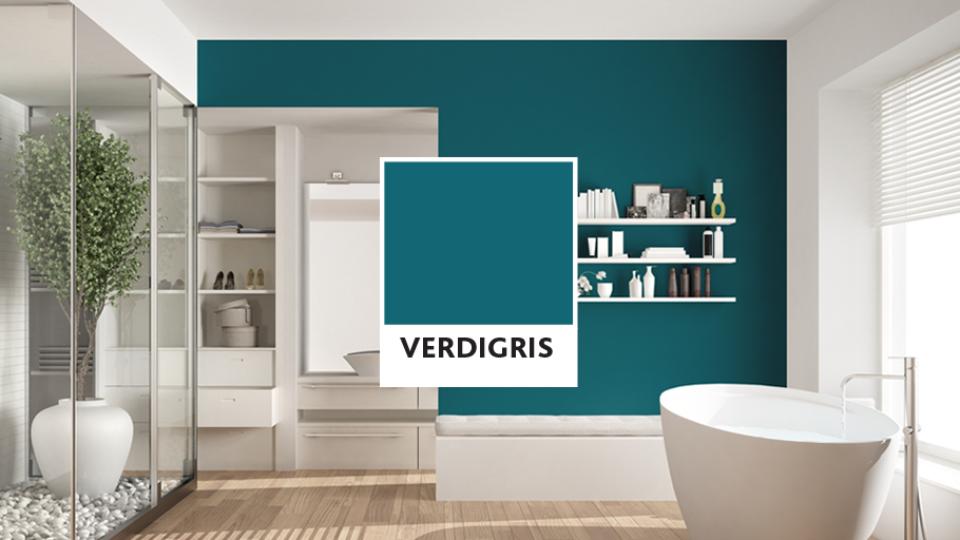 REFRESH AND RESET: 2021 COLOUR OF THE YEAR
February 1, 2021
Embrace bold tranquility with the 2021 CO-OP® Paint Colour of the Year: Verdigris!
The new year offers us all the chance for a much-needed reset. Whether you're revamping a bedroom, calming down a kitchen or decluttering a bathroom, be inspired with the 2021 Paint Colour of the Year!
Don't know where to start? Check out our top tips for accessorizing and dressing this new colour below!
1. Natural wood
Stay grounded, and combine the rich teal tone of Verdigris with the warmth of natural wood. Whether you pair the colour with a wooden floor or with rustic wooden accessories, Verdigris calls out for some wooden accents to balance the colour and calm its intensity.
The underlying elegance of this colour accentuates the warmth of natural wood, creating a subtle and restful space — perfect for a bedroom or study space. Refresh wooden furniture with a simple sand and stain to complement this bright shade. Refinish an old ladder to display plants, books or towels, or upcycle a pair of old wooden shutters to create a rustic feature. Or you can update your floors with luxury vinyl plank in natural-looking wood tones.
2. White
Combine our bold 2021 Colour of the Year with white accents to create an energizing space. Contrasting white walls with a Verdigris feature wall will make sure this shade stands out for the right reasons.
The vibrant teal tone of Verdigris can be elevated with stark white accessories, flooring and furniture to give the colour a fresh and defined tranquility perfect for a kitchen or bathroom. Try transforming tired, everyday items with bright white spray paint, or create a modern, clean feel for any bathroom or kitchen with chic white tile.
3. Muted accessories
The green tones in Verdigris create endless possibilities for the home improver. Green sits in the centre of the colour wheel, meaning it pairs beautifully with both cool and warm undertones, creating a whole different look and feel for each. Make the most of the versatility of Verdigris, and balance it with rustic muted accessories with calm, earthy undertones.
Try this chalk paint hack to transform old vases, jars and pots into rustic treasures to dress your vibrant new feature wall. A chalky, blue-toned grey will create a cool effect, perfect for the laid-back tranquility of a bathroom or kitchen, whereas a yellow-toned beige or terracotta will create an outdoorsy feel, perfect for instilling an earthy calm in a bedroom or study.
4. Natural light
Allow natural light to energize this colour to transform the hue and the space you choose for it. Gorgeous rays of natural sunlight create a fresh and clean feel, combatting any worries about the shade becoming heavy in smaller rooms. Energize a bright, south-facing room with this bold colour, plenty of plants and simple accessories to invigorate your room.
Consider minimalistic window coverings to make the most of the natural light in your space. The understated minimalism of a blind, shutter or sheer curtain will brighten up your room, creating an uplifting space sure to make you love every second spent there.
Get started on your next home improvement project with Co-op's 2021 Colour of the Year. Find everything you need to get started at your local CO-OP® Home Centre.