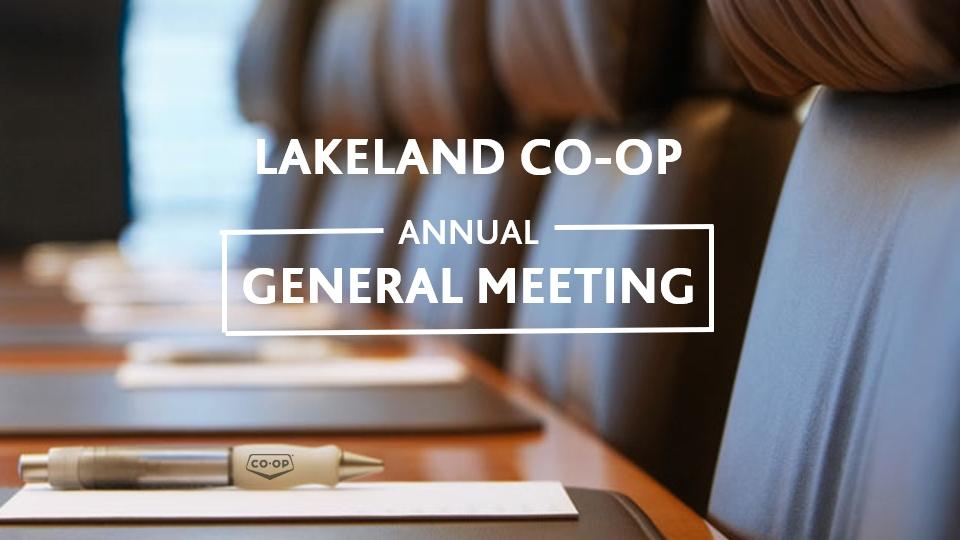 Annual General Meeting
June 16, 2021
BE OUR GUEST!
All Lakeland Co-op Member-Owners are invited to Lakeland Co-op's Annual General Meeting on Thursday, July 8th, 2021 at 7:00 PM located inside the St. Louis Parish Hall in Bonnyville, AB.
We ask that all attendees follow provincial health mandatory guidelines including the utilization of masks/face coverings and social distancing protocols. We also ask that any members who are ill or have travelled out of the country 14 days prior please do not attend. We look forward to seeing you!
Proposed Bylaw Amendment: 4:10 — Electronic Attendance
— Current Bylaw: Members are not entitled to participate in a meeting of members by means of telephonic, electronic or other communication facility;
— Proposed Bylaw: The Board of Directors may ask for an electronic means to hold a meeting of members and Lakeland Co-op will make it available to all members for that purpose.
.
.
.
Lakeland Co-op has three (3) director positions available for election this year!
There are several advantages of becoming a Director, including: Guiding the future direction of Lakeland Co-op, gaining valuable business experience, developing leadership skills and opportunities, developing leadership skills and opportunities, and representing the membership with insight and feedback.
Wondering if you qualify? Visit the Admin Office at 6020-54 Avenue in Bonnyville to inquire with General Manager, JP Stassen.
Deadline for applications is June 30th, 2021.