10 Fun Activities You Should Do this Summer
Actions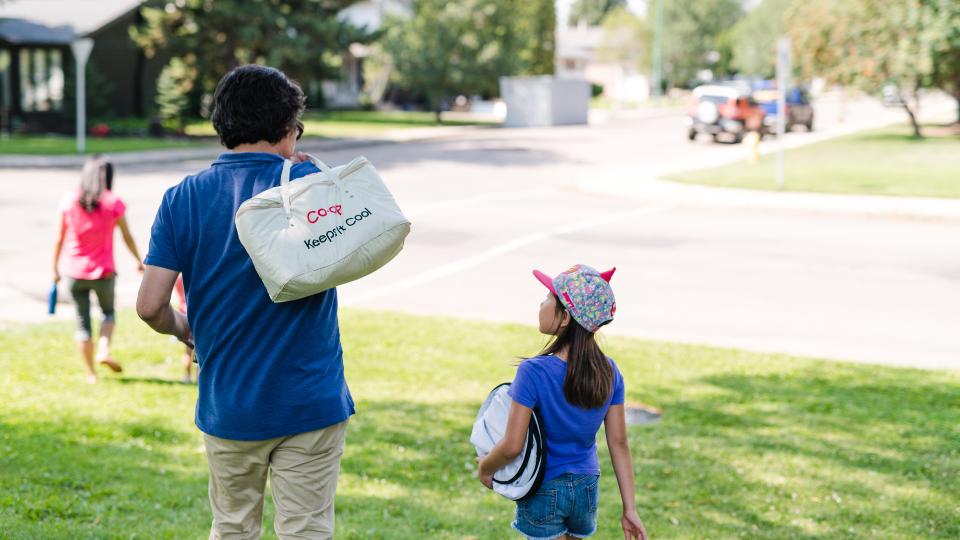 10 Fun Activities You Should Do this Summer
July 11, 2018
With summer here and the weather treating us well, you may be reminiscing about your childhood summers. Remember the days when you'd ride your bike to a friend's house and spend all day under the sun? You could spend hours upon hours outside and still be sad when the streetlights came on and you had to go home.
However, kids today spend about half as much time outside as their parents did growing up. With the rise of obesity, it's increasingly important to get your entire family outside for an active summer.
You may be strapped for fun activities that will tear your kids away from TV and video games. But, luckily, there are some great things to do in the summer that will let you make the most of the beautiful weather.
Don't believe us? Keep reading to discover 10 fun activities you should do this summer.

1. Start a Garden
Nothing is better than enjoying fresh fruits and vegetables. And they're even better when you take the time to grow them yourself!
Starting a garden is one of the greatest summer activities. You can get the whole family involved by heading to our Bonnyville Home Centre and having each member choose their gardening supplies and plant seeds. You can even turn it into a little competition to see whose plant can grow the most vegetables or whose plant can grow the tallest.
Not only will it get your family outside in the sun for a little bit every day, but you'll get to reap the rewards of fresh, home-grown fruits and vegetables.
If you're not into gardening but would rather have a beer and take a spin on the riding lawn mower, we've got a great selection of riding mowers at our Bonnyville Home Centre. Not to mention, lots of models are equipped with exactly what you need -- a cupholder!

2. Go Fishing
Fishing gives you a pretty amazing opportunity to eat fresh food -- and we mean really fresh! Plus, it'll taste even better knowing that you caught it yourself!
Since some of the best fishing is done in the early morning, you can enjoy the summer sunrise and spend some time outside before the harsh sun rays and heat drive you inside.
Do you need some new fishing supplies? Our Bonnyville Gas Bar has you covered with a nice selection of lures, hooks, and live bait. If you're needing to plan your trip completely, check out the Travel Lakeland website for a listing of lakes and information you'll need to get out on the open water.

3. Buy Fun Outdoor Furniture
Buying furniture may not seem like something that would make it's way onto your list of activities this summer. However, it can prove to be a fun outing.
You can get the whole family involved by brainstorming the perfect outdoor seating area for the backyard or patio. Hammocks, firepits, and fun lighting can all be ways to upgrade your backyard for the perfect summer.
Not only will your whole family be able to enjoy the new outdoor furniture, but they'll get to say that they helped create the perfect entertaining area!
Amp up your party (especially if you're out on the lake) by putting on a fireworks show for your family and guests. Sit back and enjoy your new outdoor furniture as you take in the spectacle of fireworks. Looking for where to get fireworks in Bonnyville? Come by and visit our Gas Bar or Home Centre in Bonnyville for an incredible selection!

4. Host a Bonfire or Barbecue
Bonfires and barbecues are one of the most quintessential parts of summer. Plus, there's no better way to break-in your brand new outdoor furniture.
You and your family will love an opportunity to spend the entire day (or night) outside with friends, family members, and neighbours. Plus, everyone loves grilled hamburgers and a beautifully cooked steak.
A quick visit to our Bonnyville Home Centre will have you salivating over all the bells and whistles that you can get on a new BBQ these days. We've got basic models, all the way up to full-on outdoor kitchens that pro chefs would be jealous of.

5. Try Something New
You may find that your day-to-day life can be a bore. That's exactly why you should take advantage of the warm weather by trying something new.
Make a list of activities that you've always been interested in, whether it be rock climbing, playing paintball or travelling solo. Choose at least 2 or 3 and make an effort to try doing them this summer.
Do you have young kids who just learned how to ride a bike? Your old bike may be worse for the wear. So, be sure to take a trip to our Bonnyville Home Centre for a new bike and helmet, so you can ride with your kids.
Not only will you have some fun summer activities to do, but trying new things has some amazing benefits, like helping you be more creative.

6. Get Away
Everyone can use a good vacation. Sunbathing lakeside with a beer or cooler in hand may sound like the perfect way to spend your summer.
If you can't find the time (or money) to go on a full vacation to a tropical destination, you can still plan a weekend-trip (or even a day-trip) to get away. Is there a good campground, hiking trail, lake, or beach within a few hours? If so, pack up the car and enjoy a change of pace for the weekend.
Don't worry if you don't have a lot of camping supplies. Just head over to our Agro Centre in Bonnyville for a one-stop shop for all your camping needs and RV supplies in Bonnyville.

7. Actually Spend Time Outside
With TV, video games, and the internet calling us, it can be hard for even adults to get the motivation to spend time outside.
But the nice summer weather won't last long, so make an effort to get outdoors this summer. Some of the best outdoor summer activities are hiking, gardening, going to the local baseball diamonds, playing mini golf, going to a local softball game, or having a picnic in the park.
Our Bonnyville Home Centre can help you prepare for whatever outdoor activity you decide on. With a wide array of items like fireworks, bikes, and gardening supplies, you'll be sure to find what you're looking for.

8. Go to a Fair, Carnival, or Festival
No summer would be complete without going to at least one fair, carnival, or festival.
Nothing beats winning a stuffed animal at the ring-toss booth, riding a Ferris wheel, and indulging in mountains of cotton candy. There are so many fun activities that can keep your whole family occupied, making fairs one of the best things to do in the summer.
What better way to end your day at the fair, then with a nice firework show courtesy of our Bonnyville Gas Bar and Home Centre's firework selection.

9. Re-Paint Your House
Who says painting can't be fun?
Summer is the best time to paint your house. And once it's done, you'll be able to enjoy it for the next few years. Just blast some music, open the windows and think about how great your house will look when you're done.
But don't waste your time going to several different stores. Our Home Centre in Bonnyville has all the home decor, paint and home building supplies you'll need to renovate your home.

10. Go Stargazing
There's no better way to spend warm summer nights than gazing up at the stars.
Grab some blankets, snacks, and a star chart (or an iPad with the Google Sky app) and try to pick out as many constellations as you can find. If you live in town, this is a great excuse to drive to the outskirts where there is less light pollution to enjoy the peace and quiet nature has to offer.
If you decide to get away, our Agro Centre in Bonnyville can help you find top-of-the-line camping and RV equipment to make the most of your stargazing and wilderness experience.

The Best Fun Activities To Do This Summer
Finding a way to get your family out of the house to enjoy the great summer weather can be harder than you may think. With the allure of indoor entertainment, like TV and the internet, kids choose to spend more time indoors then their parents did growing up.
However, if you're one of the many parents that believe being outside is important, there are some fun activities that will get them out of the house.
Did you like these ideas? Click Blog beside Discover More below for more great articles like this.
Discover more: